Bill Walker 'gave his ex-wife a black eye'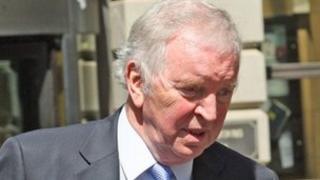 The ex-wife of an MSP has told a court that he gave her a black eye two weeks before their wedding.
Maureen Traquair was giving evidence at the trial of Bill Walker, who is facing a total of 23 charges of assault against four women over a 28 year period.
She said that during the row Mr Walker punched her in the left eye.
Mr Walker, an independent MSP for Dunfermline, denies the allegations against him.
He has claimed self defence in three of the charges.
Ms Traquair, 66, told Edinburgh Sheriff Court that she divorced the 71-year-old MSP because of his abusive behaviour.
The self-employed artist and photographer was married to Mr Walker for almost three and a half years before their marriage ended in June 1970.
Pink comb
She told a court that the politician had been physically and mentally cruel to her, and that their relationship ended because Mr Walker physically assaulted her on two different occasions.
Ms Traquair claimed she was assaulted for the first time just two weeks before their marriage in January 1967.
She also told depute procurator fiscal Les Brown that she was struck for the second time during the festive holidays in December 1969.
The court heard how this alleged incident took place after she discovered a pink comb in Mr Walker's car - prompting fears that he was conducting an affair with another woman behind her back.
The court also heard that during their time together, Mr Walker allegedly prevented Ms Traquair from working.
She told Mr Brown that her husband believed that her "place was in the kitchen."
Gold watch
The court heard that Mr Walker also "approved or disapproved" the clothes that Ms Traquair wore.
She claimed to have used wages from her nursery job to buy a gold watch to give to Mr Walker as a Christmas present, but he later threw it into a furnace.
The court heard that despite the couple divorcing, they later got engaged again in the late 1980s.
However, they broke up following an argument which ended in Mr Walker pulling a diamond ring - a piece of jewellery which cost approximately £7,500 at the time - off her finger.
When Mr Walker's defence solicitor advocate Gordon Martin asked Ms Traquair whether she was telling lies, she said: "I'm not lying. I'm not lying. If you want to - bring a bible here and I will put my hand on the bible.
"I don't fear putting my hand on the bible - I don't have a problem with that."
Special defences
The evidence came on the first day of the trial of Mr Walker, who has pleaded not guilty to 23 charges which allege he physically abused four women at various addresses in Scotland between January 1967 and January 1995.
The MSP, who sits in the Scottish Parliament for the Dunfermline constituency, is a former member of the SNP.
Mr Walker, of Alloa, Clackmannanshire, has also pleaded not guilty to one breach of the peace charge.
His lawyers have lodged special defences which state that he acted in self defence in relation to three of the charges.
The trial, before Sheriff Katherine Mackie, continues.