Edinburgh Festival: George Street to undergo revamp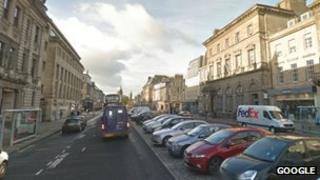 Most of Edinburgh's George Street is to be closed to traffic during the Festival to make way for pavement cafes and entertainment areas.
Until now, the plans were only for the Assembly Rooms block, which is to be entirely closed to traffic to allow space for the Spiegel Terrace.
The pedestrianised areas will be on the north side between Frederick Street and South Charlotte Street.
The changes will be in place from 1 August to 25 August.
The south side between Hanover Street and St Andrew Square will also be pedestrianised.
The traffic will still be kept flowing in the street and parking will be maintained.
Organisers said local restaurants and bars would "help to create the festival ambience" by using some of the additional pedestrian space for extra tables and chairs outside.
Cafe culture
Andy Neal, chief executive of Essential Edinburgh, the company that runs the city centre business improvement district, said: "We are delighted to get agreement to these proposals as it will allow one of our most prestigious streets to show what a great environment can be created with more space for pedestrians, whilst still keeping the vitality of the street through retained access and parking.
"As well as the festival presence, the great food and drink businesses on George Street will have the chance to show what cafe culture really means."
Steve Cardownie, Edinburgh City Council's deputy leader, said: "August is so important for Edinburgh's economy and international reputation.
"This development on George Street will help to bring back some of the fantastic festival vibe to the New Town and ease the pressure on other parts of the city centre, especially around the Royal Mile.
"It's also a very welcome step towards the continental cafe culture that we've all been looking for in the capital."