Salmond avoids Open Championship at men-only Muirfield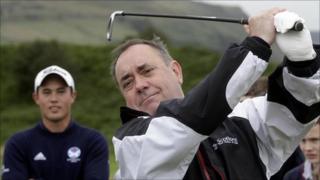 First Minister Alex Salmond has said he will not attend the Open Championship at Muirfield in July.
Mr Salmond, a keen golf fan, is opposed to the men-only membership rules of the Honourable Company of Edinburgh Golfers at Muirfield.
The first minister will attend the Scottish Open at Castle Stuart near Inverness the week before the Open.
The Scottish government will be represented at Muirfield by tourism minister Fergus Ewing.
Mr Salmond told BBC Scotland: "I just think it's indefensible in the 21st century not to have a golf club that's open to all.
"If Muirfield had the Honourable Company of Women Golfers as well and had a women's company who played the course... some clubs do that and that's pretty acceptable.
"But to have the message that women are not welcome as members, can't be members, can't have playing rights over the course on the same basis as men, seems to send out entirely the wrong message about the future of golf."
A letter sent to the Honourable Company of Edinburgh Golfers is understood to have outlined issues the Scottish government has with gender exclusive clubs, invited them to revisit their position and wished them well for the tournament.
In an interview with BBC Sport in April, the Royal and Ancient Golf Club's chief executive Peter Dawson defended the right of clubs to operate on a men-only basis.
He said: "I don't deny my job would be made a lot easier if this issue didn't exist, that's self-evident.
"But one might choose to respect the wishes of members of these clubs, which are virtually unanimous in a place like St Andrews, that the status quo works extremely well for them."
Reacting to Mr Salmond's decision, a spokesman for the Open Championship said: "When the championship is staged in Scotland we invite the first minister to attend and we hope to see him again at St Andrews in 2015."