Ancient pollen in Brazilian rainforest offers climate clues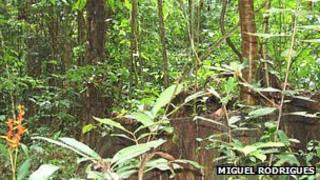 Ancient pollen from the Brazilian rainforest may help predict the impact of climate changes in the future, according to Edinburgh scientists.
More than 140 types of pollen from trees and herbs preserved in lake sediment in the South American country's Atlantic Forest were studied.
The work shows how previous changes in climate affected the environment.
Scientists from Sao Paulo University are also part of the team studying the ancient pollen.
Certain types of pollen found suggest the Linhares region of the forest has had increasingly wet summers and dry winters over the past 7,000 years, changing the types of plants found there.
Future shifts
The conditions may have been caused by a change in the Earth's axis of rotation that occurs every 20,000 years and affects the planet's climate.
This may have led to a micro-climate in the area, providing a habitat for plants and animals when other parts of the forest were treeless.
The findings are said to help explain the presence of many rare species in the region and could help predict how forests may react to future shifts in the environment.
Scientists hope the study will reinforce the need for protected areas for plants and animals in the Atlantic Forest.
Antonio Alvaro Buso Junior, from Edinburgh University, said: "These ancient pollen grains are allowing us to unlock the secrets of the past and could help predict how this vital region will react in the future.
"Our study shows how plants responded to shifts in conditions and I hope we can now make the case for these precious ecosystems to receive greater protection."