Corstorphine Hill body: Murder appeal to appear on BBC Crimewatch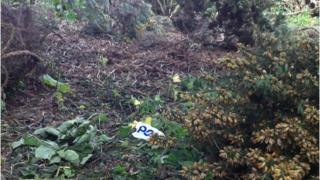 The murder of a woman whose remains were discovered on Corstorphine Hill in Edinburgh a fortnight ago will be featured on BBC's Crimewatch programme.
Det Ch Insp Keith Hardie, from Police Scotland, will appear on Thursday's show, which will broadcast from 09:15 to 10:00 on BBC One.
He will make an appeal for information to help identify the woman, whose buried remains were found on 6 June.
Nine names have been put forward by the public but they have all been traced.
Police have taken more than 90 witness statements, which has resulted in 100 phone calls from members of the public.
In addition, 10,000 leaflets have been distributed to the public, appealing for information.
Vital call
Mr Hardie said: "In the two weeks since the victim's body was discovered, we have carried out extensive inquiries and have made a number of appeals for information to assist our investigation.
"We have had a fantastic response from members of the public and the media to our appeals for assistance in identifying her, however we still await that one vital call.
"I am urging anyone with information that can help us make that breakthrough to get in touch."
The dead woman was described as being white, between 32 and 60 years old and about 5ft 2in tall. She had fair hair and expensive-looking cosmetic veneers on her teeth.
She was wearing four distinctive rings including an Irish Claddagh ring, which was facing towards the body, which traditionally means the wearer has a partner.
All the rings are old but are not thought to have significant value.