Virgin Active fined over toxic chemical leak at Edinburgh club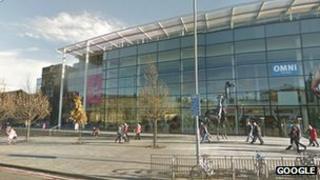 Virgin Active has been fined £20,000 for releasing a toxic mix of chemicals at an Edinburgh fitness club.
Several people had to be treated in hospital after the incident at the Omni Centre pool plant room in 2010.
Virgin Active, which runs the site, pled guilty to what a sheriff described as a very serious breach of safety laws.
Edinburgh City Council said there had been serious failures in the way the hazardous substances were managed.
'Unacceptable' failings
Edinburgh Sheriff Court heard that polyaluminium chloride was wrongly mixed with a swimming pool disinfectant, sodium hypochlorite, which produced toxic chlorine gas.
A Virgin Active's spokesman said: "This relates to a chemical incident in 2010, which occurred in the club's plant room - an area only accessible to staff - and not in the swimming pool.
"After the incident, four members of staff were taken to hospital as a precautionary measure, none of whom required treatment.
"Nevertheless, we did not meet the high safety standards that we set ourselves and, whilst this was a one-off incident, we have taken measures to ensure that it never happens again."
Lesley Hinds, Edinburgh City Council's environment convener, said: "These failings are totally unacceptable and it is only fair that the fine imposed reflects the severity of the circumstances.
"It is vital that all leisure companies fulfil their responsibilities to provide a safe environment for patrons and staff.
"We will not hesitate to act when our investigations show that this is not the case."