Good response on Corstorphine Hill 'shallow grave' body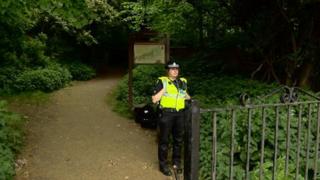 Detectives attempting to identify the remains of a woman found on Corstorphine Hill in Edinburgh have thanked people who have come forward with information.
A number of potential names for the victim of what is being treated as a murder have been suggested.
The body of the middle-aged woman discovered in a "shallow grave".
Detectives have confirmed that, following calls to them, a number of lines of inquiry are being followed.
Det Ch Insp Keith Hardie said: "Following an appeal for the assistance of the public in helping us identify this lady, we have received a lot of information.
"I am very pleased with the response we had with a number of lines of inquiry now being looked into.
"People from across the UK have made contact with us and I appreciate the support we are getting from the public."
The dead woman has been described as white, middle-aged, of medium build and short. A lot of cosmetic work had been carried out on her teeth.
Two rings thought to belong to the woman were recovered.
They are gold in appearance and set with precious stones. One is in the design of a daisy, the other is heart-shaped.
Det Ch Insp Hardie added: "Until we identify her, I repeat my appeal for people to consider if there is a woman who fits this description whom they have not seen for a number of months - perhaps not this year.
"If you have concerns about such a woman, please come forward and let us know."