City beach wins Keep Scotland Beautiful award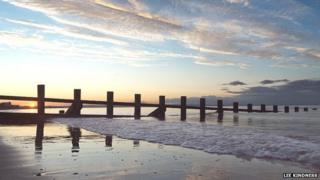 Portobello Beach has been awarded a Resort Seaside Award by environmental charity Keep Scotland Beautiful.
The award, given annually, recognises excellent litter management, safety procedures and water quality.
It is the second year in a row that Portobello beach has won the award.
Lesley Hinds, Edinburgh City Council's transport and environment convener, said: "I am delighted that Portobello Beach has been granted this coveted award for the second year in a row."
She added: "The people who use this beautiful beach can be assured once again that it is officially a clean and safe environment for us all to enjoy.
"The award recognises the quality of the surrounding area too, and a lot of effort has been made by the council to encourage people to visit local shopping centres such as Portobello.
"And of course, the community must be thanked for their help in disposing of litter and generally looking after this much-loved destination."
Derek Robertson, chief executive of Keep Scotland Beautiful, said: "We know that beach users, whether they are local or visitors from near or far, want to enjoy clean beaches, with well-maintained facilities and access.
"Our awards flags now fly proudly all across Scotland and are your guarantee of high environmental standards. Choose a seaside award beach on our online map, and enjoy a great Scottish day out by the sea."