Human remains in 'shallow grave' on Corstorphine Hill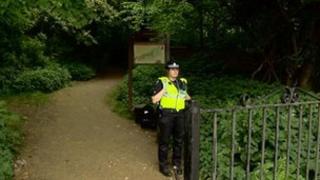 Police in Edinburgh are investigating the discovery of human remains on the city's Corstorphine Hill.
A dog walker found the remains in what appeared to be a shallow grave at 17:30 on Thursday.
Detectives said they did not believe the grave had been there for many years.
It was too early to say whether a crime had been committed, they added, but officers did not believe the body was that of anyone known to be missing.
Det Ch Insp Keith Hardie said it could take up to three days to fully excavate the find.
He added: "Basically we have human remains and bones that are exposed to the elements and in the circumstances we have found them in, it makes sense to excavate the area. So we need to carry out a thorough investigation.
"I don't think it's likely that it's a grave that has been there for many years considering the circumstances they were found in. We genuinely have no idea on sex or age so that will be one of our priorities.
"It is far too early to even say a crime has been committed here, it's very early stages.
"Our number one priority here is to recover the human remains forensically so that we don't lose any evidential possibilities. Then we will work on identifying the victim before finding out the cause of death."
Det Ch Insp Hardie confirmed that as well as Police Scotland forensic teams, officers were working with anthropologists, archaeologists and entomologists.
He said: "It's very difficult. If we can obtain DNA then that's a good starting point for us. First and foremost it's about the recovery of the body itself.
"But after that it can be something that can happen virtually overnight or it can take months and months.
"We don't suspect that the identity belongs to anyone on the missing persons list and it would be unfair on those families that do have someone missing to speculate."
He asked anyone with information relating to the remains to contact the police.