Plea over Edinburgh Royal Observatory suffragette bomb mystery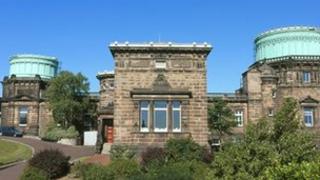 Information on the mystery bomber who 100 years ago attacked the Royal Observatory in Edinburgh during a suffragette campaign is being sought.
The bomber was never caught following the blast that shattered windows, splintered floors and cracked stone on the observatory's tower on 21 May 1913.
The bomb, a jar with gunpowder, exploded at 01:00 when nobody was inside to be injured.
Blood, a ladies' handbag and a note were found at the scene.
Scrawled in ink on a scrap of paper was the phrase: "How beggarly appears argument before defiant deed. Votes for women."
Dr John Davies, an astronomer at the Royal Observatory in Edinburgh, told the BBC Scotland news website: "Today we encourage young women and girls into science and technology, but it is interesting to see how much has changed here in 100 years.
"The bomber, or bombers, were never caught so we don't know anything about them, but if any of their grandchildren are still in Edinburgh, we'd love to meet them and find out more so we can update the display in our visitor centre."
Although the more moderate suffragists deplored the use of violence a breakaway movement, the Women's Social and Political Union spearheaded by Mrs Pankhurst and her daughter, started a campaign of destruction across Great Britain at the beginning of 1913.
It included attacks on Ayr racecourse, Kew Gardens, Regents Park, and the Tower of London.
Post boxes had acid poured into them, train carriages were set on fire and telephone lines were cut.
As Mrs Pankhurst said about the WSPU's activities: "We don't intend that you should be pleased." The then Astronomer Royal for Scotland, Ralph Sampson, certainly was not.
He described the attack as "an outrage".
Nobody was ever charged with the attack. At the time the observatory only employed men.
Times have changed and the current director of the UK Astronomy Technology Centre, which runs the Royal Observatory in Edinburgh, is Prof Gillian Wright.
A piece of the jar used in the bomb is on display at the observatory.