Pedal on Parliament: Cyclists demand better deal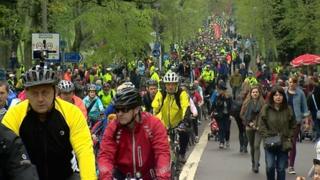 Thousands of cyclists have pedalled to the Scottish Parliament, calling for 5% of Scotland's transport budget to be spent on cycling.
The Pedal on Parliament event has received the backing of Olympic cycling champion Sir Chris Hoy and former racing cyclist Graeme Obree.
Organisers and Edinburgh City Council said 3,000 to 4,000 people took part, while police estimates were 2,500.
The group wants more funding and lower speed limits in areas used by cyclists.
These are two of eight points contained in a "manifesto" which Pedal on Parliament has urged politicians of all parties to sign.
The protest began at 15:00 with a minute's silence to remember those who have lost their lives on the roads. The protest then made its way to Holyrood through the centre of Edinburgh and down the Royal Mile.
World champion cyclist Graeme Obree led the ride, alongside the families of Andrew McNicoll and Audrey Fyfe, who were both killed on Edinburgh's roads in recent years.
Mr Obree said: "It's an investment in the health of the nation - if you can spend £800m in one city on a tram then you can find £100m for cycling."
Speaking to the crowd, one of the Pedal on Parliament organisers, David Brennan, said "We aren't 'cyclists', we're everyone - from the mum taking her children to nursery to the road cyclist doing 100km at the weekend.
"But we're also the kids in the back of the car looking wistfully out of the window because their parents can't risk them riding to school, the people who drive to the gym to ride on stationary bikes because the roads are too fast and busy.
"There's a real hunger out there for conditions where everyone can ride, from eight to 80, and we're calling on the Scottish government to make the investment to make that a reality. We need a step change in funding."
The environment minister, Paul Wheelhouse, told the crowd the Scottish government was trying to find new ways to boost investment in cycling, but he was repeatedly heckled, with organisers saying it was time for warm words to be replaced by firm action.
Mr Wheelhouse said: "The Scottish government are committed to making cycling easier and have funded a mutual respect campaign for all road users and are refreshing the Cycling Action Plan for Scotland. We are meeting regularly with MSPs and councils.
"We would encourage community groups and schools to apply for funds to promote cycling."
The minister also reiterated the Scottish government's commitment to see 10% of journeys by bike by 2020.