Daughter of cyclist Audrey Fyfe calls for tougher sentences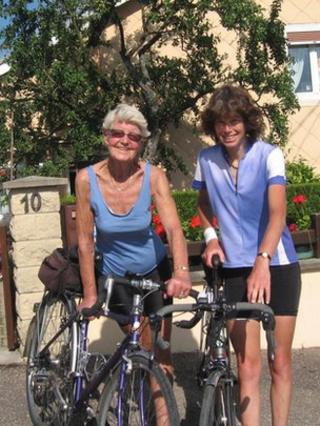 The daughter of a woman killed by a careless driver has called for tougher punishments for those convicted of offences involving cyclists.
Gary McCourt, 49, was banned from driving for five years after being found guilty of killing Audrey Fyfe, 75, in Edinburgh in August 2011.
Her daughter, Aileen Brown, described the sentence as "beyond comprehension".
She said: "When he killed mum, he didn't take one life away, he destroyed the lives of our entire family."
Edinburgh Sheriff Court heard how McCourt told police he "clipped" Mrs Fyfe's back wheel at a junction. The 75-year-old, who was not wearing a helmet at the time, died two days after the collision.
It emerged McCourt had been found guilty in 1986 of causing another cyclist's death by reckless driving.
Ms Brown told BBC Scotland: "Having lost my best friend and mother, no sentence was going to feel like justice. Nothing can replace mum.
"I had prepared myself for the possibility that Gary McCourt wouldn't get a custodial sentence, but the prospect of seeing him driving again in five years is beyond comprehension.
"How many innocent people does he have to kill before his licence is confiscated permanently?"
Ms Brown, who is also a keen cyclist with the Bath Cycling Club, said her mother and father spent their holidays cycle touring around Europe.
The year before Mrs Fyfe died, the mother and daughter had attended a cycling festival in France together.
She said: "Mum enjoyed nothing more than a day cycling with family or friends followed by a relaxing swim.
"She had the energy and enthusiasm of a 40-year-old and was an inspiration to everyone she met whether in the cycling community, the Scottish country dance troop, the ramblers or her church friends. She always saw the positives in life."
The Crown Office has said it would give "careful consideration" to whether McCourt's sentence was "unduly lenient".
Mrs Fyfe's family now want tougher sentences for drivers involved in crimes against cyclists in a bid to deter others.
For those given a temporary driving ban, they would also like to see retraining, assessment and ongoing monitoring when drivers are allowed to return to the road.
"A lifetime ban is the only reasonable outcome for Gary McCourt as he still doesn't appear to acknowledge that his driving skills are inadequate," said Ms Brown.
"His paltry sentence also sends the message to other drivers that killing cyclists is a lesser crime."
Ms Brown said that on the continent cyclists seem to be treated with far greater respect.
"If we adopt the European process, for any RTAs involving a cyclist and driver, the assumption is that the driver is at fault unless they can prove otherwise."
She added: "He has inflicted a lifetime sentence of irreplaceable loss on our family and friends. Sadly, mum won't be back in five years time. Our lives will never be the same again."