New folk festival Tradfest launches in Edinburgh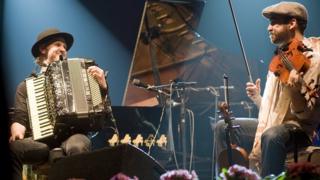 A new festival has opened in Edinburgh showcasing the best of traditional music, dance and storytelling.
Tradfest brings together the folk arts and kicks-off a season of festivals across the country.
For the next 12 days locations as diverse as the Portobello promenade, Arthur's Seat and Calton Hill will be used as performance spaces.
TradFest is inspired by the Edinburgh People's Festival and the Edinburgh International Folk Festival.
Traditional arts
David Taylor, Creative Scotland's portfolio manager special projects, said: "The traditional arts in Scotland are all about building on the artistic inheritance of the past while looking imaginatively towards the future.
"That philosophy of innovation as well as emulation lies at the heart of TradFest Edinburgh."
There will be a range of music from Bothy Nichts traditions to the contemporary interpretations of a Karine Polwart or Alasdair Roberts, from Nordic Fiddlers Bloc to Shooglenifty, from the Lowland Pipes of Hamish Moore to the step dance rhythms of Fin Moore.
Steve Cardownie, Edinburgh Council's festival and events champion, said: "We are pleased to support this festival which demonstrates good collaboration across the various traditional arts, and across Scotland's diverse traditions.
"We look forward to a feast of quality performances for everyone to enjoy."
TradFest Edinburgh is organised by the Scottish Storytelling Centre on behalf of Traditional Arts and Culture Scotland.