Edinburgh Zoo panda may not be father of any cubs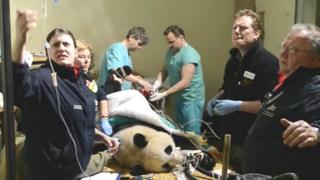 The male panda at Edinburgh Zoo may not be the father of any future cubs after sperm from another male was used to artificially inseminate the female.
The zoo's female giant panda, Tian Tian, was artificially inseminated three times using samples from both Yang Guang and Bao Bao.
Bao Bao's sperm was frozen before he died in Berlin Zoo last year aged 34.
If Tian Tian is pregnant, confirmation will come in mid-July when experts can give her an ultrasound scan.
It would then be likely her cub, or cubs, would be born at the end of August or the beginning of September.
The normal breeding season for pandas is mid-April to May.
The zoo said that if Tian Tian were in the wild she would mate with more than one panda.
Iain Valentine, Edinburgh Zoo's director of giant pandas, said: "We were honoured to have gathered so many of the world leading experts on artificial insemination and reproduction management in animals at Edinburgh Zoo in the early hours of Sunday morning to help our own extraordinary team of talented veterinarians and animal keepers.
"This was ground-breaking science taking place for the first time in the UK.
"It would have been amazing if the pandas had mated naturally, however artificial insemination is the next best thing for the overall global conservation effort and the individual biology of Tian Tian our female."