Mortonhall Crematorium: No criminal prosecutions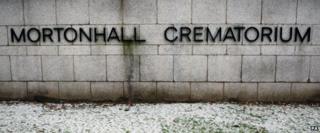 There will not be any criminal prosecutions over the Mortonhall baby ashes scandal in Edinburgh.
Parents were refused access to their dead babies' ashes at the crematorium. It was burying the ashes in a remembrance garden.
It is thought the practice was carried out from the 1960s until 2011, and 26 complaints were made to police.
The Mortonhall Ashes Action Committee said it was disappointed by the decision not to pursue charges.
The committee said it had no faith in any Edinburgh City Council investigation and would continue to press for a public inquiry.
Police Scotland confirmed that no further criminal action was planned.
A spokesman said information gathered by officers would be made available to the inquiry established by Edinburgh City Council into what happened at Mortonhall, which is being led by Dame Elish Angiolini.
Current information
A Police Scotland spokesman said: "Following a number of complaints relating to Edinburgh Crematoria, robust inquiries were carried out to determine if a criminal police investigation was required.
"On progressing inquiries, officers engaged closely with Edinburgh City Council and the Crown Office and Procurator Fiscal Service and regularly provided updates as to the progress of assessing any information that was received.
"Following consultation with the procurator fiscal, it has been agreed that there is no basis in the current information on which to report the matter for consideration of prosecution."
The spokesman added: "All the information that has been gathered will now be passed to Edinburgh City Council to assist in their inquiry.
"There will be no further police involvement at this time.
"However any new information that suggests criminality will be passed to the police for further investigation.
"Police are now in the process of updating the individuals who made complaints in relation to this matter."
'Whole truth'
Willie Reid, chairman of the Mortonhall Ashes Action Committee and one of the parents who had reported their case to police, said: "Mortonhall Ashes Action Committee are disappointed in the decisions by the police and Crown Office that no criminal proceeding are to take place.
"Our fight for a public inquiry continues as we have no faith in any Edinburgh City Council investigation.
"We would like to thank the former Lothian and Borders Police and Police Scotland for their efforts and sympathetic way they dealt with parents."
Patrick McGuire, a partner with Thompsons Solicitors, which is acting for almost 100 parents across Scotland, said: "There is concrete evidence which proves that the practice of denying grieving parents the right to mourn their babies properly by withholding the ashes goes way beyond Mortonhall.
"The inquiry which is being co-ordinated by Edinburgh City Council will do nothing more than scratch the surface rather than get the answers these parents so badly need.
"Only a full public inquiry will provide the transparency which is needed to get the whole truth about what has been happening not only at Mortonhall but across the whole of Scotland."