Haddington market returns after 40 years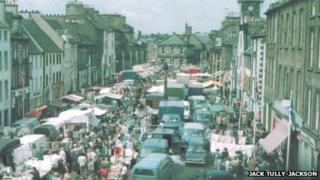 Haddington market is returning to the East Lothian town's High Street for the first time in 40 years.
Haddington was once the market town of East Lothian and officials said they want to regain its crown.
There will be 20 stalls from outside the George Hotel up to the Market Cross on Saturday.
Organised by Haddington Events Group, any profits will buy the town's festive lights. It is hoped the one-off pilot will lead to regular town markets.
A Haddington Events Group spokeswoman said: "As Haddington is historically a county market town, with markets being held since the early 12th Century, it makes sense to bring back the town market and supplement Haddington's existing retail offering, increasing footfall in the town centre.
"We hope all the residents of Haddington and its surrounding towns and villages come along on Saturday to support us, not just at this event but by shopping locally all year round."
There will also be live music from Haddington Pipe Band and a local brass band.