Police officer Steven Kellock put on sex offenders register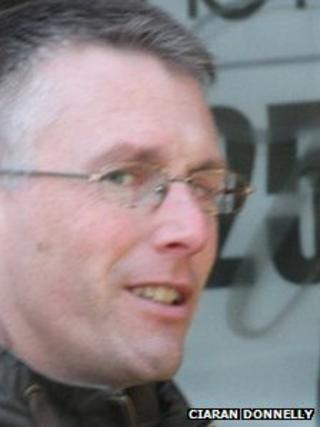 A police officer who sexually assaulted a 15-year old girl in an Edinburgh cinema during a church trip, has been placed on the sex offenders' register.
Steven Kellock, 40, pled guilty to touching the girl on her arm, legs and breasts over her clothing and touching her stomach under her clothing.
Edinburgh Sheriff Court heard the assault took place at the Vue Cinema at the Ocean Terminal on 16 December 2012.
The former Lothian and Borders Police constable will be sentenced in May.
The girl was part of an 18-strong group from an East Lothian church, who were on an outing to see the film "The Hobbit".
Kellock, a church elder, had driven her and some others to the cinema as the girl's father, a friend of his, had been unable to.
Fiscal Depute, Pauline Shade, said Kellock sat next to the girl then began stroking her leg.
The fiscal said: "At that point she was not concerned, she thought of it as being a friendly gesture and nothing else".
Kelleck then moved his hand to her upper thigh. "At this point the girl felt things were going too far and became uncomfortable", Ms Shade said.
Car journey
The teenager tried to move further away from Kellock by turning her back on him.
He stopped touching her for a while and she did not tell a friend what was happening.
He began touching her on the arms and legs and then placed his hand under her top and rubbed her stomach.
The fiscal said the girl got up and went to the toilet, but when she returned, Kellock again began touching her arms and legs. She pretended she had to go and answer her mobile, but when she came back he continued to stroke her arm.
On the car journey back, when the car stopped at a petrol station, the girl texted a friend and told her what had been going on. The friend contacted girl's parents and they phoned the police.
The fiscal said that when Kellock reported for duty on 19 December, he was told of the allegations and suspended from duty.
Ms Shade added that Kellock claimed to be full of remorse for the hurt caused to the girl, her family and his family.
Sheriff Roderick Macleod deferred sentence for background reports until May, but ordered Kellock to register as a sex offender.