Enzyme switch may help 'slow cancer tumour growth'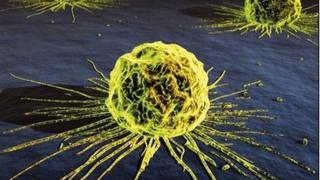 Scientists at Edinburgh University say they have been able to manipulate a key enzyme found in the human body to regulate the growth of cancer cells.
The researchers found the enzyme, pyruvate kinase, switches between providing fuel for existing cells and forming material for new cells.
However, in cancer cells, the balance is tipped towards producing new cells and so aids the growth of tumours.
In tests they were able to reverse the process to slow the cancer cell growth.
Scientists were able to control the enzyme by adding to it naturally occurring compounds, including one known as phenylalanine.
'Devastating disease'
When this compound is present in sufficient amounts, the pyruvate kinase enzyme stops generating fuel for cells and instead pushes cells towards growing and dividing.
Researchers said their findings open up the possibility of developing drugs to monitor and control the growth of cancerous tumours.
Researchers used x-ray technology to examine the structure of the enzyme, which changes depending on its function.
The study, funded by the Wellcome Trust and the Medical Research Council, was published in Proceedings of the National Academy of Sciences.
Professor Malcolm Walkinshaw, of Edinburgh University's school of biological sciences, said: "We have effectively shown how to turn on and off the growth of real cancer cells.
"We hope this finding will advance our understanding of how to tackle this complex and devastating family of diseases."