Edinburgh trams: Politicians mark tram section handover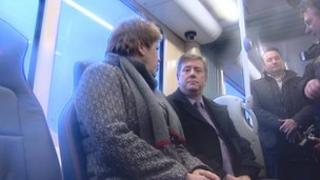 The first completed section of the tram route has been handed over from the contractor to Edinburgh City Council.
The occasion was marked by Transport Minister Keith Brown and Edinburgh's Transport Convener, Lesley Hinds, taking a trip on the line.
They travelled the 2.8km stretch by tram from Ingliston Park to Edinburgh Airport and back again.
Trams are due to be running in Edinburgh by the summer of 2014.
Last month councillors unveiled plans to ensure Edinburgh residents aged over 60 would be able to travel free on the city's trams.
The city council said it was committed to integrating Edinburgh's bus network with the trams and extending the free bus pass scheme to local people.
It will now look at ways of funding the initiative, which has been welcomed by the Scottish government.
'Good progress'
Lesley Hinds, Edinburgh City Council's transport convener, said: "With the airport to Gogar section now handed over to the council and good progress being made all along the route, it's clear to see that the Edinburgh Tram project is heading towards completion.
"The coming months will see on-street works completed, full-line tram testing and driver training along the whole route.
"It's a big year for the project and we can push on safe in the knowledge that this first 2.8km section has been successfully completed and is working well.
"Very good progress being made but there is still some on-street disruption to come and we're determined to limit this as much as possible."
Transport Minister Keith Brown said: "This is further evidence that the project is now making good progress in terms of the revised timetable.
"The people of Edinburgh and local business community should now be able to plan ahead with confidence and look forward to seeing further evidence of the project coming to fruition over the coming months."
The tram project team will report to the council in September 2013 with an update to project timescales.
The project remains in line with the revised budget (£776m) approved by the council in September 2011, with work either ahead of schedule or in line with the revised timescale reported in December 2011.