Seal caught in fishing line for 10 days on Isle of May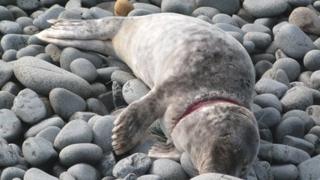 Wildlife conservationists are hoping a seal will survive after freeing it from fishing line in the Firth of Forth.
The seal was first seen tangled up at Pilgrims' Haven on the Isle of May two weeks ago, however the sea was too stormy for experts to rescue it.
Ten days later it was seen again in even more distress because it was still tangled up in the line.
Now it has been freed from the line and it is hoped its wounds heal out at sea.
It was first spotted in trouble by staff and volunteers at the Scottish Seabird Centre at North Berwick using live interactive cameras on the island, which beam pictures back to the centre.
Tom Brock, chief executive of the Scottish Seabird Centre, said: "It was distressing to see this injured seal on our live cameras. It is tragic that wildlife is suffering like this.
"We are just so pleased that this particular seal could be rescued, but it does highlight the problems that wildlife faces.
Litter and rubbish are a real issue and a significant risk to wildlife - on our cameras we often see gannets on the Bass Rock lining their nest with plastic bags. Litter ends up around our coast and in the sea.
"We appeal to everyone to respect Scotland's seas and help our wildlife by disposing of rubbish properly and recycling wherever possible."
David Pickett, SNH's Isle of May reserve manager, said: "It was upsetting to find the seal in such a state affected by marine litter, but it felt great when I finally snipped through the last of the fishing line and the seal could head back to the sea.
"The seal has a nasty wound on its neck caused by the line, but we have seen seals recover from worse injuries in the past. So hopefully it has a good chance of survival."