Man blinded in one eye by golf ball at Leven Links sues player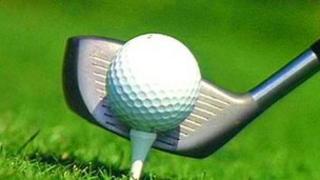 A ball spotter at a golf tournament is suing a professional player after he was blinded in one eye by a golf ball.
David McMahon, 70, was struck during a competition at Leven Links, in Fife, in April 2009.
He has raised an action seeking £50,000 against Gavin Dear, a former Walker Cup player who turned professional later in 2009, at the Court of Session in Edinburgh.
Mr Dear maintains that he acted at all times with reasonable care.
A judge heard that the amount of damages to be paid has now been agreed between lawyers in the action. However, liability is still contested in the case.
Golf buggy
Mr McMahon, who was on the look out for balls hit into gorse at the Scottish amateur Champion of Champions competition, said he had approached a couple at a mound out on the course, who had strayed off a path, and asked them to leave as they were in danger where they were standing.
He said Mr Dear was out on the course positioned "on the edge of the semi rough" at the 12th. Another golfer, who was playing with him, was on the fairway at the 6th.
He said he turned to walk back to his golf buggy when he was hit in the eye by a ball.
"I landed right on the ground. The ball hit me and I went down," he told the court.
"I covered my eye with my mitt, my glove. I took my glove back and it was full of blood," he said.
Mr McMahon said he shouted to a referee who came straight over.
He was asked by his counsel, Ronald Clancy QC, if he heard anyone shout a warning before he was hit by the ball and replied: "No."
Reasonable care
Mr Clancy asked him hypothetically what he would have done if at the point he turned away from speaking to the spectators to return to the buggy he had heard the traditional warning shout of "fore".
Mr McMahon responded: "I would have become the ground."
He added: "I have been hit eight times by golf balls and take my word for it, it is sore."
Mr McMahon denied that he was behind the buggy and emerged out into the path of the ball, when questioned by Graham Primrose QC, for the golfer.
It is alleged that Mr Dear knew, or ought to have known that Mr McMahon, was in line with the path of his ball.
It is claimed that had the golfer exercised reasonable care in ensuring that no one was standing in a position to be struck by the ball he would not have been injured.
Mr Dear, 28, of Scone, Perthshire, maintains that neither Mr McMahon or the alleged spectators were visible at any stage to him, his playing partner or two men accompanying them on their round prior to the injury.
It is maintained that after the ball was struck Mr McMahon emerged "suddenly and without warning" from behind a golf cart.
Mr Dear maintains in the action that he acted at all times with reasonable care in the whole circumstances.
The hearing before Lord Jones continues.