Bikers to compete in Grassmarket sprint for Red Bull Hill Chasers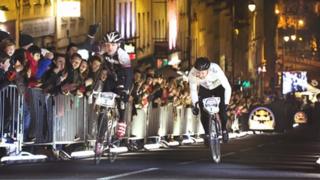 Edinburgh's historic Grassmarket is to be transformed into an uphill race track for one night.
BMX bikers, mountain bikers, road racers and fixed-gear cyclists will compete in a 170-metre sprint across the Grassmarket and up Victoria Street.
At least 500 bike enthusiasts are expected to compete in Scotland's first Red Bull Hill Chasers challenge on 30 March.
The event is the UK's only multi-discipline uphill cycling race.
Elite cyclists
The Red Bull Hill Chasers has previously been held in Bristol and Malaysia.
Cyclists will get a chance to race against their heroes, including world-renowned riders Michal Prokop and Jack Pullar.
Racers will take part in an individual, timed hill sprint and the fastest 30 riders from qualifiers will be selected for the main event where they will go up against 10 elite cyclists.
Mr Prokop, three times World Champion four-cross cyclist, said: "I'm really looking forward to visiting Edinburgh for the first time for this year's Red Bull Hill Chasers. The race atmosphere is going to be amazing."
Steve Cardownie, Edinburgh City Council's festival and events champion, said: "Red Bull Hill Chasers is the ultimate 'battle of the bikes' and a great opportunity for cycling enthusiasts to not only test their skills, but to race against top bike athletes from across the UK.
"We're delighted to welcome the event to Scotland for the very first time.
"There's a huge cycling community here and I can think of no better backdrop for this exhilarating challenge than Edinburgh's dramatic Old Town."