Edinburgh Council agrees budget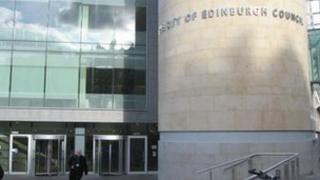 Edinburgh City councillors have agreed their budget for the next year, which freezes residents council tax for the sixth year in a row.
The council faces making savings of £95m over the next five years, £3.8m of that in the coming financial year.
Spending on roads and pavements as well as health and social care will rise.
Edinburgh councillors also agreed to increase the price of some services, including parking charges.
The total revenue budget is £939m for 2013/14. Council Tax makes up £231m of this with £708m coming from Government grants and business rates.
Extra investment will be targeted in social care, children's services and economic growth. An additional £2.25m has been earmarked to provide care for older people in their own homes. An extra £10.5m will be spent over the next two years to improve schools, nurseries and facilities for children.
As well as looking for £9m in purchasing efficiencies, the price of parking across the city are set to rise from 1st April, with street parking charges across the city to go up. Parking on George St, St Andrew Square and Charlotte Square will cost £3 per hour, up from £2.80. The most expensive residents parking permit will rise from £441 per year to £463.
The cost of an allotment will rise from £80 per year to £90. Charges for performers during the Edinburgh festival are also set to rise with the cost of a street theatre licence to go up from £43 to £44 per day.
Cllr Alasdair Rankin, convener of the finance and budget committee, said: "For the first time we asked the public and partner organisations to comment on the Council's draft budget. This allowed us to listen to people about how money should be spent and saved to allow us to deliver our Contract with the Capital in a very well managed and open way.
"It also meant we were able to include some ideas and suggestions from other political parties. This means the widest possible views are reflected in how we best use money to support individuals, communities and businesses."