Speech aid technology for schools to help children with Downs Syndrome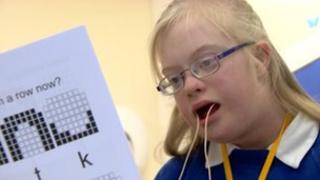 Children with speech impairments are to benefit from technology developed at Queen Margaret University in Edinburgh.
Researchers in the department of speech and language therapy have worked out a method of tracing tongue movements.
They are now working at schools, helping children with Downs Syndrome to improve their communication skills.
The technology, electropalatography, involves a dental plate connected to a machine, which monitors the tongue.
'Quite frustrating'
Zoe Grayson, one of the therapists bringing the project to schools, said: "We show the children how different sounds have very distinct mouth patterns."
Grace Hampson, 11, who is a pupil at Prospect Bank Primary, finds it hard to pronounce the letters t and k.
Her mother, Rosemary Hampson, said: "I think Grace does find it quite frustrating sometimes.
"Grace's speech is good but I think sometimes putting certain sounds together can be really challenging and sometimes if she has a cold and her hearing isn't maybe so good that can affect her speech as well."
Grace has started a 12-week course of one-to-one electropalatography sessions with follow-up sessions over the next year to see if her language skills improve.
Her head teacher, Kirsty Rosie, said: "Communication is a key skill for learning, for life and for work.
"I think it is really important that we maximise each child's potential so they can be fully involved in society."
'Form friendships'
Dr Sara Wood, speech and language therapist at Queen Margaret University, said: "If people are struggling to communicate effectively, this can affect their educational progress.
"Difficulties with communicating successfully will affect people's ability to form friendships and to integrate into the wider community.
"Conventional speech and language therapy relies on auditory feedback which the person with Down's syndrome cannot always use to change their speech.
"The speech difficulties they experience as children carry on into adulthood, which may limit life opportunities. Because people with Down's syndrome struggle to make themselves understood they can suffer from social exclusion and limited employment opportunities."