Leith Waterworld: Revised community bid 'not viable'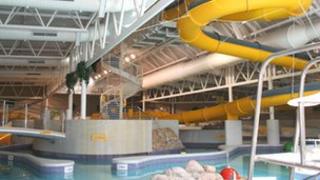 A community bid to operate a leisure pool in Edinburgh is not commercially viable, according to council officials.
Leith Waterworld, the city's only swimming pool with flumes, closed last January with annual losses of £350,000.
Campaigners had a plan to run the facility rejected in September, but the City Council gave them more time and help to submit a new proposal.
However, that looks set to fail, with a report recommending that the property be remarketed for sale.
Councillors are due to make a final decision on Thursday.
An officer report, which will be considered at the meeting, concluded that the revised business case submitted by campaign group Splashback "is not commercially viable and does not offer best value to the council".
No budget
The revised submission features two options.
The first would be to operate the venue using its existing facilities and the second would add a large soft-play feature in the glass entrance atrium and create a new cafe.
The report said both options would still require a significant ongoing subsidy from the council, for which no budget currently exists.
Cllr Richard Lewis, culture and leisure convener, said: "I said previously that I would be delighted if an affordable and achievable community bid came forward and I acknowledge the time and effort that Splashback have invested in this.
"We gave the group the opportunity to bring back a more robust bid and it is now up to us as councillors to consider the arguments and reach a decision in the best interests of the city."