Edinburgh woman Shafquat Saleem jailed for killing brother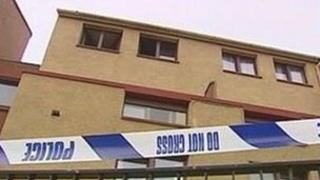 A former postmistress has been jailed for 13 years for killing her brother by setting fire to her family's home.
Shafquat Saleem helped torched the Edinburgh flat in June 2001 during a long-running family feud with relatives.
Her parents lived at the flat along with her younger sister, two brothers and an uncle.
Most escaped unharmed - but her brother Imran, 18, was overcome by smoke and fumes and died.
After a trial last year, Saleem was found guilty of wilful fireraising, while acting with others, which resulted in the death of her brother.
She had been charged with murdering her brother, but the jury found her guilty of the lesser charge.
The trial heard petrol was poured through the letterbox of the property before it was set alight.
Living abroad
Passing sentence at the High Court in Aberdeen on Wednesday, Lord Stewart told her: "On the evidence the attack on the property was part of a family feud involving, on one side your father and mother, and on the other your older sister and brother Rafath and Tanveer and yourself.
"I must take account of the fact that the verdict means that you did not intend to kill your brother Imran. You have been convicted on the basis that you acted with others.
"The evidence is silent as to the exact part that you played in the plot: but the evidence does indicate that you were not the driving force.
"I have to emphasise that I am not dealing with a private dispute between family members but with a crime that resulted in damage to property that did not belong to the family, a risk to other families living in neighbouring flats and the death of a young man."
Saleem was also found guilty of attempting to defeat the ends of justice by getting her hair cut short to alter her appearance on the day of the fire, and by leaving the UK in September 2001 and living abroad until April 2011.
She was further found guilty embezzling £34,327 from the sub Post Office at Raeburn Place in Edinburgh, where she worked.
During the trial, it emerged that family members had fallen out over mortgage payments on a property in Belmont Gardens in the Corstorphine area.
'No animosity'
Saleem's sister Rafath and her brother, Tanveer, were the registered owners of their parents' previous home but their sister Mussart Saleem was paying the mortgage.
When Mussart missed a couple of mortgage payments, there was an argument which eventually saw Rafath kick her relatives out of the house.
Arrest warrants were issued in 2002 for Shafquat, Rafath and Tanveer Saleem in connection with the blaze.
Shafquat Saleem, who continues to maintain her innocence, ended up being the only family member indicted over her brother's death, and the others were not brought to court.
Defence lawyer Ian Duguid said the relationship between Saleem and her family had been "cordial" since her return to the UK.
He described her as a person devoted to her family and said there had been "no animosity" between his client and her brother.
Mr Duguid said Saleem insisted she had left the country because of the prospect of her sister facing court action in relation to a child custody case.
He said: "In the face of it, she is a very intelligent woman, someone who is unlikely to be involved in this type of offence again because these circumstances are unlikely to present themselves again."