Mortonhall Crematorium: Dame Elish Angiolini to lead baby ashes investigation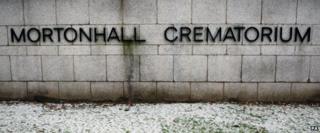 Former lord advocate Dame Elish Angiolini will lead an investigation into the disposal of baby ashes at Mortonhall Crematorium in Edinburgh.
The city council announced an independent review after it emerged that bereaved parents had been denied access to the ashes, which were buried in a garden of remembrance.
It is thought the practice was carried out from the 1960s until 2011.
Hundreds of parents are now calling for a public inquiry.
Lothian and Borders Police has also been asked to consider criminal charges against the crematorium.
Earlier this month, Edinburgh City Council approved the appointment of an independent person to oversee and direct further investigations into Mortonhall.
A spokesman for the council said it was expected that Dame Elish would review crematorium files, carry out further interviews and draw on any expert advice she deemed necessary.
A current review of crematorium records being undertaken by independent auditors PWC will also feed into Dame Elish's investigation.
Lothian and Borders Police are looking into two criminal complaints against Mortonhall and the council inquiry will not commence until the status of these has been clarified.
The findings of Dame Elish's investigation will be reported to the local authority's transport and environment committee, which is led by Councillor Lesley Hinds.
Ms Hinds said: "I am very pleased at the appointment of Dame Elish Angiolini.
"As a former Lord Advocate, Dame Elish is held in the highest esteem and reflects the authority and experience required to properly investigate this significant and sensitive matter. I look forward to receiving her findings."
The council had earlier appointed PWC to look at thousands of crematorium records to help deal with the questions and concerns of families.
However, parents have expressed doubts that they will learn the truth without the matter being subject of a full public inquiry.