Mortonhall Crematorium: Police asked to look into criminal complaints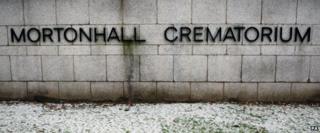 The police are looking into two criminal complaints that have been lodged over the Mortonhall baby ashes issue in Edinburgh.
Lothian and Borders Police has been asked to consider criminal charges against the crematorium.
Parents were refused access to the ashes of their dead babies at Mortonhall Crematorium. It was burying ashes in a garden of remembrance.
It is thought the practice was carried out from the 1960s until 2011.
'Sincere regret'
Hundreds of parents are now calling for a public inquiry.
Edinburgh council expressed "sincere regret" after it was discovered last month that staff at the council-run crematorium had buried the cremated remains of babies in a mass grave, without parents being informed.
On Wednesday, a council report recommended that an independent person be appointed to oversee and direct further inquiries into Mortonhall.
The council has also appointed external auditors to look at thousands of crematorium records to get a comprehensive picture, which would help to deal with the questions and concerns of families.
A Lothian and Borders Police spokesman said: "Lothian and Borders Police has received two complaints in relation to Mortonhall Crematorium in Edinburgh.
"The complaints will be thoroughly assessed in order to determine whether any further police action is appropriate."
'Palpable anger'
Patrick McGuire, of Thompsons Solicitors, the lawyer representing some of the bereaved Mortonhall parents, said: "Having attended the public meeting on Wednesday evening it comes as no surprise that a complaint has been made to the police.
"The meeting was a very tense one where emotions were understandably running high.
"There was a great deal of sadness but also palpable anger in the room.
"I would therefore equally not be surprised if we see many more formal complaints to the police in the coming days.
"Having researched the matter, the legislation appears to me to be entirely clear on the point.
"The Cremation Act 1902 contains three specific criminal offences and from the information that I have received, it is perfectly clear that the police will require to fully investigate whether one, two or all three of the offences have been committed."