Trio jailed for attack that left Alexander Ormiston with 'Elephant Man' injuries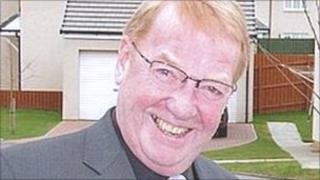 Three men convicted of an attack that left a Fife businessman looking like the "Elephant Man" have been jailed for a total of almost 20 years.
Brian Kennedy, 31, Paul Breslin, 41, and Ian Oliver, 26, were found guilty of attacking Alexander Ormiston, 63, to his severe injury on 19 May 2011.
He died at Edinburgh's Western General Hospital on 3 June 2011.
Kennedy was jailed for five years and six months, Breslin for six years and Oliver for eight years.
Mr Ormiston was assaulted in his Rosyth home.
The High Court in Glasgow heard that, at the time, Kennedy was suing Mr Ormiston in the civil courts for £80,000.
'Black and blue'
Mr Ormiston was abducted by the gang and forced to go to his bank and withdraw £5,000.
The next day at work, his face was "black and blue" and an employee described him as looking like the Elephant Man.
Sentencing the trio, judge Lord Pentland said: "You have been convicted of a concerted attack, cowardly and violent attack on an elderly and vulnerable gentleman in his own home.
"You then abducted him from it and robbed him of £5,000.
"This appears to have been to enforce and collect a debt which he allegedly owed to you, Kennedy.
"You were pursing an action in the civil courts, but you decided to take matters into your own hands.
"The only thing to distinguish you from one another is your criminal records."
All three were on trial accused of killing Mr Ormiston but were cleared of that charge and convicted of the reduced charge of assault to severe injury.
The trio broke into Mr Ormiston's home.
He was repeatedly punched on the head and body and forced to drive to a branch of the Bank of Scotland in Leith, Edinburgh, and withdraw £5,000 from his account.
Mr Ormiston, who suffered from health problems, then fell seriously ill and eventually died in hospital.
Kennedy, from Glenrothes, Fife, Breslin, from Musselburgh, East Lothian, and Ian Oliver, a prisoner of HMP Shotts, denied culpable homicide.
During the trial, the court heard that Mr Ormiston owned his own haulage company, which was based at Edinburgh's Leith Docks.
He was locked in a legal dispute with Kennedy, also a haulage operator, who was suing him for £80,000.
The court heard that, after the assault, Mr Ormiston did not seek medical attention but became unwell and died in hospital from a slow bleed on the brain.