Mortonhall Crematorium baby ashes: Problem could be wider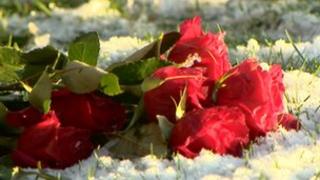 An inquiry into how bereaved parents in Edinburgh were refused access to their babies ashes could reveal wider problems across Scotland.
Initial findings from the City of Edinburgh Council have suggested other local authority crematoriums may have had similar policies.
For 45 years, Mortonhall crematorium told parents their babies would leave no ashes for them to collect.
However, it emerged ashes were actually buried in a garden of remembrance.
Edinburgh council expressed "sincere regret" after it was discovered last month that staff at the council-run crematorium had buried the cremated remains of babies in a mass grave without parents being informed.
Campaigners believe ashes were being dealt with in this way since the late 60s and have called for a public inquiry. The practice ended in 2011.
On Wednesday, an initial council report led by Mike Rosendale, head of schools and community services, recommended that an independent person be appointed to oversee and direct further inquiries into Mortonhall.
It said this may include at looking at policy and practice in other local authority areas since "initial enquiries suggest there are variations in practice across Scotland".
The report also calls for a review of current policy, practice, equipment and staff training at the crematorium.
Earlier, the council had announced that a team of external auditors would look at thousands of crematorium records to get a comprehensive picture which would help to deal with the questions and concerns of families.
The report said bereaved parents who had made inquiries should all receive a "full explanation" regarding the recovery or non-recovery of ashes and should have access to all the records informing that explanation at the conclusion of the investigation.
Councillor Lesley Hinds, environment convener, said: "Having received these findings I feel it is only right and proper, and taking into account the views of parents, that an independent person now completes the inquiry.
"This person would also look all the recommendations in the report which include ensuring the council has clear policies in relation to cremations and that they comply with national guidelines.
"The independent audit of crematorium records will continue so we can get comprehensive information from which we will try to deal with the questions and concerns of families."
She added that Sands (Stillbirth and Neo-natal Death Society) would be kept informed as the investigation has progressed.
Ms Hinds said discussions over a permanent memorial would continue.
The report will be discussed at the council's transport and environment committee next week.
Meanwhile, about 50 people, including some of the families, attended a meeting on Wednesday night, to discuss the issue, during which further calls for a full public inquiry were made.