Mortonhall Crematorium baby ashes: Auditors probe records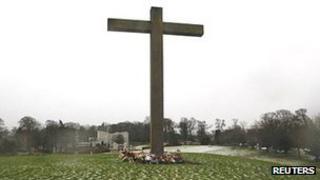 Auditors have been called in at an Edinburgh crematorium being investigated for mishandling the remains of dead babies.
Mortonhall Crematorium routinely told parents there would be nothing to scatter after cremations but ashes were then buried in a garden of remembrance.
An investigation was launched in December after bereavement charity Sands discovered the practice.
Price Waterhouse Coopers auditors will look through more than 100,000 records.
Edinburgh City Council expressed "sincere regret" after it emerged last month that staff at the council-run crematorium had buried the cremated remains of babies in a mass grave without parents being informed.
Campaigners believe ashes were being dealt with in this way for about 45 years and have called for a public inquiry. The practice ended in 2011.
The local authority has asked auditors to provide an independent account of how many babies' remains were disposed of.
Councillor Lesley Hinds, environment convener, said: "A key issue being raised by parents is the need for an independent role in the investigation so a completely separate audit of the crematorium records is now being carried out.
"There are over 100,000 documents relating to cremations and the audit will have a particular focus on those involving babies.
"This is intended to provide us with comprehensive information from which we will endeavour to deal with the questions and concerns of families and develop an understanding of what has happened at Mortonhall."
An update on the ongoing council investigation into the historic and current practices at Mortonhall Crematorium is due to be discussed at a committee meeting next week.
Ms Hinds added: "We will carry on working closely with Sands as the investigation progresses and will continue discussions over some form of permanent memorial. We hope to consult widely on this soon."
Meanwhile, MSP Kenny MacAskill has agreed to meet with representatives from Sands at the Scottish Parliament on Monday.
A petition for a public inquiry has gained more than 3,000 signatures.
Dorothy Maitland, Sands operations manager, discovered in December that the ashes of her daughter Kaelen were interred in the ground at Mortonhall - 26 years after she was told there would be nothing for her to collect after the funeral.