Torchlight procession starts Edinburgh Hogmanay celebrations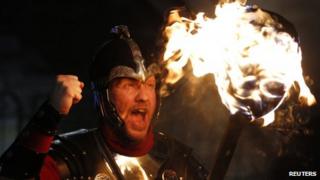 Edinburgh's Hogmanay celebrations have started with a torchlight procession through the city centre.
About 7,000 torchbearers were expected to gather on Chambers Street for the annual event which attracts tens of thousands of spectators.
Up to 80,000 revellers are due to descend on the capital for Monday night's street party.
This year, hourly one-minute firework displays will mark the count down to 2013.
From 21:00 GMT on 31 December there will be a display on the hour until midnight, when there will be a longer firework sequence.
There will be five live stages, with Scottish bands Simple Minds and The View, as well as The Maccabees and Admiral Fallow among the acts due to perform.
Steve Cardownie, Edinburgh City Council's festivals and events champion, said the torch parade is a popular start to three days of New Year celebrations.
"It is hugely important to us," he said ahead of the event.
"We actually moved it back a day because people were saying they wanted to participate but they arrived in Edinburgh too late to take part.
"There will be around 28,000 to 30,000 people. About 5,000 candles have been purchased and a further 2,000 can be purchased on the evening itself, and two charities will benefit because of this.
"It is spectacular to watch that procession. It will be making its way down the bridges on its way to Calton Hill. It is a great way to start the celebrations."