Wojtek the beer-drinking soldier bear statue planned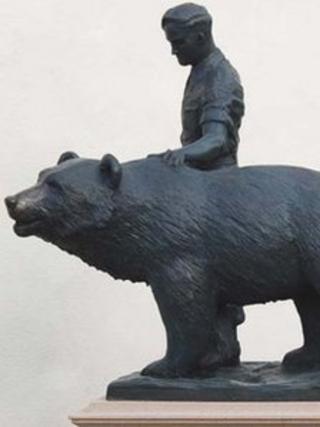 A beer-drinking bear who saw action in World War II could be immortalised by a statue in Edinburgh's Princes Street Gardens.
Wojtek - dubbed the "Soldier Bear" - was adopted by Polish troops and helped them carry ammunition at the Battle of Monte Cassino.
After the war he lived in Scotland at Hutton in Berwickshire, before ending his days in Edinburgh Zoo.
The Wojtek Memorial Trust Fund has now raised £200,000 to create two statues.
One bronze statue will go to Poland and it is hoped the other will be erected in Princes Street Gardens.
The bear, which was enlisted and given a name, rank and serial number, died in 1963.
Fund organisers now hope city planners give the site the go-ahead so they can erect the statue in 2013 - in time to mark the 50 year anniversary of the bear's death.
Aileen Orr, author of Wojtek The Bear: Polish War Hero, believes a war monument is long overdue.
She said: "Wojtek ended up at Sunwick Farm in Berwickshire where I live, but before I was born.
"My grandfather, Jim Little, had him and he would play on the grass in the garden.
"My grandfather met him in Palestine with the allies.
"This is one of the classic stories of World War II. You don't have to embellish it because the story itself is incredibly exciting and sad."
A bigger than lifesize bronze cast is being planned by sculptor Alan Heriot.
Mr Heriot said: "The Polish soldiers should be remembered as they fought for us as did Wojtek the bear.
"Everyone would like to see this statue sited in 2013."
Wojtek was rescued as a cub in the Middle East in 1943.
The Polish soldiers adopted him and as he grew he was trained to carry heavy mortar rounds.
At the end of the war the bear - who had also learned how to smoke and drink beer - was billeted at an army camp in the Scottish Borders.
When the Polish soldiers were demobilised he was taken to Edinburgh Zoo where he eventually died in 1963.