Methil care home residents flee from fire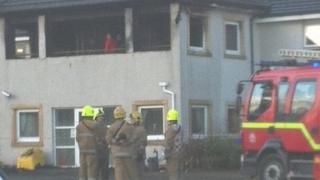 Fifty elderly residents and six staff were moved to safety after a fire broke out at a care home in Fife.
The blaze at the Forth View Care Centre on Sea Road in Methil, which started at 04:30, has now been put out.
There are no reports of any injuries and all the residents are accounted for.
The fire started in a first floor dining room. Residents were moved either to a safe part of the building, or a nearby police station.
The care home's owner, Balhousie Care Group confirmed there was a small fire but that all its residents and staff were now "safe and well".
Sandra Ross, Balhousie Care Group director of operations, said: "We are in the process of contacting all relatives to update them on the incident and reassure them that their loved ones are all well.
"A small number of residents were moved to an area away from the fire but no one had to be evacuated outside and no one was injured. The fire was brought under control quickly but it is too early to know what may have caused it.
"The six staff who were on duty dealt with the incident quickly and efficiently and we commend them for their handing of the situation.
"We would also like to thank Fife Fire and Rescue Service for their fast response."
Relatives are being asked to avoid visiting the home at the moment.