Dalgety Bay radiation report: Up to two month delay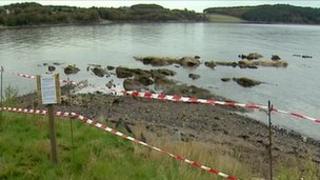 A report from an investigation into a Fife beach where radioactive particles have been found could be delayed by up to two months.
The report on Dalgety Bay was due by the end of May 2013.
Now the Scottish Environment Protection Agency (Sepa) has said it could be a further six to eight weeks before it is completed due to a delay in machinery being given access to the site.
Work to dig 106 pits at the beach for samples has now been completed.
Radioactive particles were first found at Dalgety Bay about 20 years ago.
Contaminated land
They are believed to have come from radium paint used to illuminate the dials of World War II aircraft which were then dumped in the area.
The report will determine the extent and source of the contamination.
The Ministry of Defence had been given a deadline of next May to come up with a workable plan to clean up the beach and prevent it becoming the first in the UK to be designated radioactive contaminated land.
Dr Paul Dale, Sepa's principal policy officer, said: "While we fully appreciate that any delay in this process is undesirable, we are pleased that the physical work has been completed to our satisfaction.
"Although the findings of the work have yet to be collated, they reinforced the ongoing need for the measures currently in place to protect the public, and have shown that no further precautions are deemed necessary.
"If people follow the advice on the signs and stay out of the demarcated area, where high activity sources have previously been found, then any risk to the public is low.
He added: "We are aware that some people have started to use the demarcated area, and we would stress that this is cordoned off for their protection."