Edinburgh Haymarket station crane lift delayed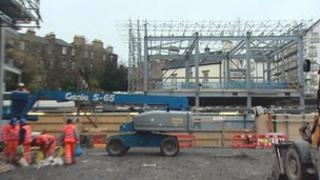 Work to lift part of a new 110-tonne superstructure onto Haymarket station in Edinburgh has been delayed.
The move, due for overnight on Saturday, has been postponed because of a mechanical problem with the 1,000 tonne crane needed for the lift.
Network Rail said it was disappointing but it expected the work could go ahead later in the week.
Haymarket station is being expanded to deal with projected increased customer numbers over the next 20 years.
More than four million people a year currently use Haymarket, Scotland's fourth busiest station. By 2030 more than 10 million are expected to use it.
The station was built in 1842. The original station building will be kept.
1,000 tonne crane
The redevelopment is the biggest structural change in the station's history.
It had been planned to move two pieces of superstructure onto the station in the early hours of Sunday.
One of only five 1,000-tonne cranes in the UK will be used for the lift, moving the structure with clearance of only 3cm between it and the retaining wall.
The work is part of a £25m project to revamp Haymarket, due to be completed by December 2013.