Horse rescued from freezing River Leven in Fife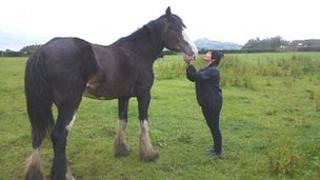 The trainer of a clydesdale horse rescued after being trapped for hours in freezing temperatures in a Fife river said it was "lucky to be alive".
Margaret Horne, 34, from Fife, said "a lesser horse" would not have survived after it took more than an hour and a half to pull her from the River Leven.
About 25 firefighters rescued the one ton horse, called Corra, 3, at West Meetings Farm near Windygates.
They were called to the scene just before 08:00.
Heavy-footed
Four firefighters went into the river, where the Clydesdale was stuck half submerged in the water.
They attached straps and lines before about 20 firefighters pulled it free.
It was checked over by a vet and is now said to be doing well.
Ms Horne told the BBC Scotland news website: "Corra had slipped down an embankment. There have been horses in that field for years without incident but she is heavier and heavier footed so that's probably how she's fallen.
"She is very lucky to be alive and its because she never gave up, a lesser horse would not have survived.
"Her owner was distraught. We felt quite helpless but the firefighters were fantastic, we cannot thank them enough.
"Corra is now all rugged up and dried off and recovering well. We are so relieved she is fine. She is inside just now but we will be moving her to another field so it doesn't happen again."
Dave Latto, Fife Fire and Rescue Service group manager, said: "The horse was stuck in 4ft of water beside a 3ft steep bank so it couldn't get out.
"There was also a dead tree in the way. It was a difficult rescue that involved a lot of people.
"Once we managed to pull it onto the bank we still were unable to get the horse on its feet because of the debris that was there.
"The vet gave her an injection, I think to calm her down.
"Moving a ton of horse is quite dangerous for firefighters but we are trained for it. The last I saw the horse had its head in a bucket eating away, so it ended well."