Edinburgh University hails online 'milestone'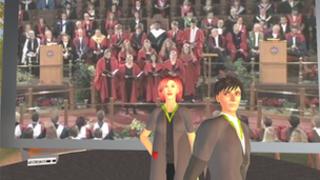 More than 200,000 people have signed up for free online taster sessions being offered by Edinburgh University.
The institution said figure was a "significant milestone" in its efforts to offer "free higher education-standard online courses to all".
In July, it joined the Coursera consortium, providing web-based undergraduate-level courses.
The figure emerged as a number of UK universities joined forces to launch a separate online project.
The FutureLearn partnership includes the Open University, King's College London, Bristol, Exeter, Warwick, East Anglia, Leeds, Lancaster, Southampton, Cardiff, Birmingham and St Andrews.
Extra-terrestrial life
They will aim to give the public access to higher education courses via computers, tablets or smartphones, challenging US universities that have dominated this emerging market.
Edinburgh University is offering what are known as massive open online courses (Moocs) through the Coursera consortium.
The subjects covered are astrobiology and the search for extra-terrestrial life, equine nutrition, digital media, "critical thinking in global challenges", artificial intelligence and philosophy.
They are tasters for people interested in higher education but who are not in a position to do it full-time.
There are no entry requirements, the courses will not result in a qualification and completion does not count towards future university entrance.