Tour de France: Councillors back Edinburgh start bid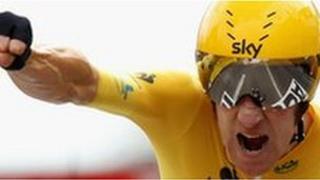 Councillors in Edinburgh have agreed to back a bid to bring the Tour de France to Scotland for the first time.
Edinburgh Castle and the Old Town would be used as a backdrop for the start of the world's largest annual sporting event.
It could generate as much as £50m for the Scottish economy and see the event in Edinburgh as early as 2014.
Edinburgh City Council said that if the bid was successful it would bring £24m to the capital.
Under plans being considered, Edinburgh Castle would host the Presentation of the Riders, followed by a day of cycling ahead of the Grand Depart.
Media centre
The bid to bring the Tour de France to the UK is being led by EventScotland, with the support of the Scottish government, British Cycling, UK Sport, the Welsh government, plus several English and Welsh local authorities.
Edinburgh City Council's bid is part of the British bid, which would see four days of the race in the UK, through southern Scotland, England and Wales.
The hosting fee for the event is about £2m, of which Edinburgh City Council would be expected to pay about £300,000.
It would then cost the local authority about £450,000 for a media centre, barriers and police.
Under the plans, the riders would tour the city centre in "non-race" mode the day before they were due to start the race. The race would then begin from the outskirts of the capital.