Anger over 'champagning' stunt at St Andrews University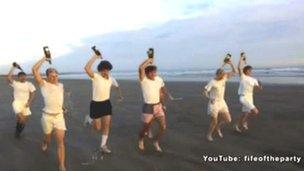 A group of students have been accused of tarnishing St Andrews University's reputation with a video where they pour bottles of champagne over their heads.
Students from other parts of the UK have been posting videos online where they tip milk over their heads.
It is understood the St Andrews students were trying to show they were more affluent by turning the "milking" trend into "champagning".
The students' association's president said he was furious at the prank.
Freddie Fforde said their actions had undermined efforts to attract people from all backgrounds to St Andrews.
Seven students are seen in the YouTube video, which has now been removed, wasting 25 bottles of what appears to be champagne.
Mr Fforde told the BBC Scotland news website: "I am furious about this because of all the work students and I have done to encourage students from all backgrounds to apply here.
"This video has undermined our image and undoes a lot of good we have done.
"I have spoken to the students involved and they realise they have made a massive mistake. They are very embarrassed about it and have gone into hiding."
Related Internet Links
The BBC is not responsible for the content of external sites.