New Pyjamas campaign: Elaine McGonigle denies 13 fraud charges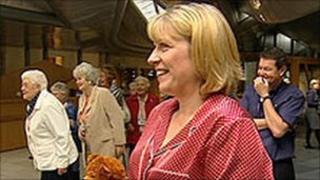 The former director of an Edinburgh children's hospital fundraising campaign has pleaded not guilty of fraudulently claiming expenses.
Elaine McGonigle, 48, from Perthshire, denies 13 charges of fraudulently claiming expenses while fundraising for the Royal Hospital for Sick Children.
It is alleged £1855 of frauds were committed between September 2008 and 2010 during the New Pyjamas campaign.
Mrs McGonigle was not present at Edinburgh Sheriff Court on Friday.
She had been excused attendance as the calling was for a legal debate on a defence motion.
Her solicitor, Peter Robertson, told Sheriff Nigel Morrison QC that he was withdrawing the motion and that his client was now pleading not guilty to all charges.
Travel expenses
Fiscal Depute, Aidan Higgins, said the trial was "likely to take some time" and it was fixed for three days in May next year.
All her claims are said to involve claims for food, mileage, accommodation and travel expenses.
The allegations include £70.40 mileage for a meeting with Jack McConnell and £75.07 for a meeting with businesswoman, Ann Gloag.
It is also alleged she claimed £436.38 in fares for business flights to and from London when the sum had been spent on a flight to Majorca for herself, her husband and son and £548 for flights between Edinburgh and London, when she and her husband had gone to Bulgaria.