Ryanair announces eight new flights from Edinburgh and Glasgow Prestwick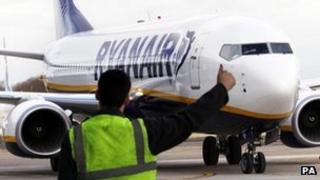 Ryanair has announced eight new flights from Edinburgh and Glasgow Prestwick to destinations across Europe.
The new Edinburgh routes will be to Bologna, Beziers, Cagliari, Corfu, Katowice and Santander. The new Glasgow routes are to Rzeszow and Warsaw.
Ryanair had cut its schedule at Edinburgh Airport following a row with former operators BAA.
However, it has reached a new agreement with the airport's new owner, Global Infrastructure Partners.
It means there will now be 38 routes operating by Ryanair from Edinburgh Airport and 27 routes from Glasgow Prestwick Airport.
The new routes are to airports at Bologna and Cagliari in Italy, Beziers in France, Santander in northern Spain, Corfu in Greece and Katowice, Rzeszow and Warsaw in Poland.
The airline is also increasing the frequency of flights on five other routes from Edinburgh and four from Glasgow Prestwick.
Ryanair said all its routes at the two bases would mean it would deliver a combined total of more than 3 million passengers.
'More choice'
Ryanair's chief executive Michael O'Leary said: "Ryanair is delighted to announce its Scottish summer 2013 schedule, which will deliver over 3 million passengers per annum and sustain over 3,000 jobs at Edinburgh and Glasgow Prestwick Airports.
"Following successful negotiations with Edinburgh Airport's new owners, Global Infrastructure Partners, Ryanair will grow its summer 2013 operations at Edinburgh by 11%."
Gordon Dewar, Edinburgh Airport CEO, welcomed the investment at Edinburgh Airport.
He said: "When I came to Edinburgh Airport in the summer, it was clear that we had to repair the relationship with Ryanair and work with them to provide more choice for Scottish passengers."
Iain Cochrane, Glasgow Prestwick CEO, said: "We're delighted with Ryanair's latest commitment to grow its business from Glasgow Prestwick which is another sign of its continuing confidence in our airport.
"It gives travellers an even greater choice of value-for-money destinations next year and a further boost for the local economy, with more visitors to Scotland coming through the airport gateway.