Lothian and Borders Police pipe band to disband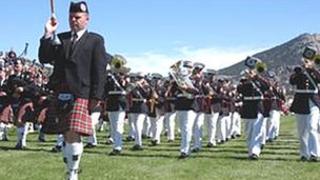 Lothian and Borders Police is to disband its pipe band after it was left with not enough members to compete.
The pipe band, which can trace its links back to the 19th Century, will end on 31 March 2013.
The band won the 1975 World Pipe Band Championship and a further six times under their former identity as the Edinburgh Police.
Gary West, presenter of BBC Scotland's Pipeline programme, said: "I'm very saddened indeed to hear this news."
He added: "The Lothian and Borders Police have been one of the great bands on the world stage, winning the World Championship title in 1975, and a further six times under their former identity as the Edinburgh Police.
"They have taken their music all over the world, and have been associated with excellence for many generations.
"They have been in great form in recent months, with top quality performances in high profile concerts, and I had hoped they'd be able to build on this in the years ahead.
"Sadly that is not to be. This is a tremendous loss."
Band funding
Assistant Chief Constable Graham Sinclair, president of the Lothian and Borders Police Pipe Band, said: "The decision was taken by members following two recent emergency meetings called to discuss the band's future, in light of the departures of a number of key playing and support personnel.
"Following much discussion members concluded that the band did not, and was not likely to, attract sufficient numbers to continue to compete.
"On this basis the decision was taken that the band would officially disband on the 31 March next year, to coincide with the end of Lothian and Borders Police.
"At this time I would like to extend my thanks and gratitude to all former members for their commitment and dedication over the years."
A spokesman for the body creating the single Scottish police force, National Police Reform programme, said: "Police pipe bands currently receive funding support from forces and their respective police boards/authorities.
"A decision was taken earlier this year that the current funding arrangements for police pipe bands would remain in place for 2013.
"Any requests for future funding support from the service will be a matter for the Chief Constable of Police Scotland and the new Scottish Police Authority to consider."