Heroes honoured at St Andrew's bravery awards in Edinburgh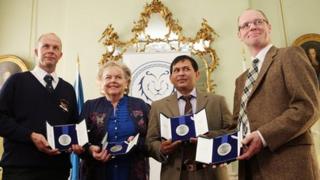 Four people who put themselves in danger to help save the lives of others have been honoured for their heroism.
The group were handed their St Andrew's Awards by Deputy First Minister Nicola Sturgeon during a ceremony at Bute House in Edinburgh.
Angus Blackburn, from Penicuik, was recognised for his bravery after saving a child from a burning house in the Midlothian town in November 2009.
He was beaten back by smoke as he tried to reach the boy before rescuing him.
Agnes Crystal, from Dundee, was given her accolade for taking control of a bus to stop it crashing in the city in December last year.
The bus's handbrake disengaged after the driver had stepped off and Ms Crystal, a passenger who has never had a licence, got hold of the steering wheel and managed to guide it away from an oncoming vehicle and into a barrier where it came to a halt.
Darren Crowe, from St Abbs in the Borders, saved a man's life when he fell into the sea close to the small fishing village in June last year.
He persuaded the man to let go of a rock and hold on to him, before swimming to a lifeboat which picked them both up.
Abdul Aziz was honoured for his courage in saving a man from a burning vehicle in Aberdeenshire in January.
Mr Aziz was at work close to the busy A90 road near the Newtonhill junction when he saw a single vehicle crash.
He broke into the car, which was on fire, and pulled the man to safety through the window.
The casualty sustained burns and slight trauma, but he has since made a full recovery.
'Real credit'
The four St Andrew's Award winners were chosen from 24 people recognised at the Brave@Heart reception at Edinburgh Castle in October.
Ms Sturgeon said: "It is a real privilege to meet with these four incredibly courageous people whose actions in the face of danger are an absolute inspiration to us all.
"Agnes, Angus, Abdul and Darren had already been selected by an independent panel to receive a Brave@Heart Award for their exceptional bravery.
"Today their efforts are being recognised once again at our St Andrew's Award ceremony.
"As we look forward to celebrating St Andrew's Day, it is a fitting time to pay homage to four remarkable people who are a real credit - not only to their own friends and family - but to the people of Scotland."