St John's Hospital children's ward launches doctor recruitment drive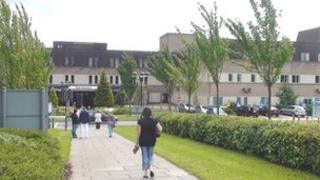 NHS Lothian is to put a new recruitment process in place to find enough doctors to staff the pediatric and neonatal unit at a hospital in Livingston.
The unit at St John's hospital has been hit by problems because of staff shortages, and had to close overnight services for three weeks in the summer.
The health board said it was committed to keeping the unit open.
However, it said it would have to find ways of attracting more doctors to the hospital.
Maternity leave
Dr Edward Doyle, NHS Lothian's assistant divisional medical director, said: "We need to recruit more doctors to fill the gap in the rotas.
"The acute problem is an unexpected peak in the amount of maternity leave within the training grades in South East Scotland.
"We've just been informed that around a third of our middle grade pediatric trainees will be absent on maternity leave early next year.
"Most aspire to work in very busy units with a complex case mix so we have a job to do to make jobs with a significant amount of out of hours work at a general district hospital attractive.
"Across the UK the experience has been it is quite difficult to recruit consultant jobs with a significant amount of night-time and weekend shift work."