Woman hit by bottle thrown from bridge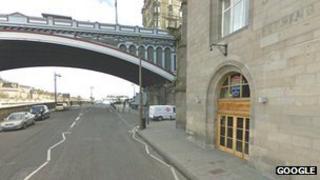 A woman is recovering from a gash to her head after being hit by a bottle that was thrown from a bridge in Edinburgh city centre.
The woman was standing outside the City nightclub in Market Street when she was hit at about 03:00 on Saturday.
The bottle was thrown from the North Bridge, which is above the street.
The woman was treated by ambulance staff at the scene. Police have appealed for information to trace the person who threw the bottle.
Insp Gary Dickson, of Lothian and Borders Police, said: "This was a highly reckless and dangerous act and the person responsible obviously had no regard for the safety of the pedestrians below.
"Thankfully the woman only sustained fairly minor injuries, however the consequences could have been much more serious.
"Both North Bridge and Market Street would have been busy at the time with people leaving bars and nightclubs, and I would appeal to anyone who may have seen the incident to telephone us immediately.
"Similarly, anyone who thinks they know who the culprit is should get in touch with us immediately."