Derek Riordan fined for homophobic abuse of Edinburgh bouncers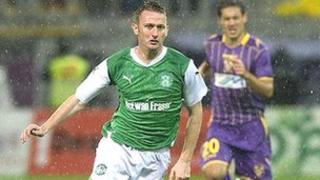 Footballer Derek Riordan has been fined £800 for admitting shouting homophobic abuse at bouncers who threw him out of an Edinburgh nightclub.
The former Hibernian player, 29, abused staff who ejected him from the Picture House in Lothian Road on 7 May.
Edinburgh Sheriff Court heard how staff removed the ex-Celtic player because he is banned for life from a number of pubs and clubs in the Scottish capital.
Riordan, from Edinburgh, admitted a charge of breach of the peace.
Prosecutors agreed to drop an assault charge which alleged that the former Scotland international had seized Picture House employee Michael Moore by the throat when he was being thrown out of the club.
Riordan currently plays for Bristol Rovers.
List of pubs
On Friday, defence solicitor Kathleen More told the court that Riordan was sorry for his conduct.
Ms More said that Riordan had not realised that he was banned from the Picture House.
She said: "He is subject to a ban under the Unight scheme. He has been provided with a list of pubs and clubs in Edinburgh which are part of the scheme.
"However, he was unaware that the Picture House venue was part of the scheme.
"Venues that are part of the Unite scheme usually have signs above their entrances. The Picture House does not."