Terrapin abandoned in pond at Royal Botanic Garden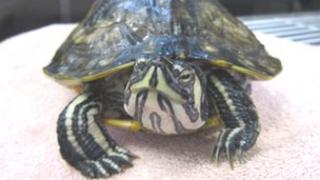 A terrapin has been found abandoned in a hothouse pond at the Royal Botanic Garden Edinburgh.
The creature, which can live up to 30 years, was spotted on Monday.
The Scottish SPCA said even if its owner had had good intentions by leaving him in a suitable environment it is still an offence to dump animals.
The terrapin, named Tango by animal welfare officers, is being cared for at the Edinburgh and Lothians Animal Rescue and Rehoming Centre.
Jeni Wright, of the Scottish SPCA, said: "Someone has obviously taken Tango there with the intention of dumping him.
'Unacceptable'
"They may have thought they were doing the right by leaving him in a suitable environment but we can't stress enough that abandoning an animal under any circumstances is a criminal offence.
"It's unacceptable for people to simply throw out their pets when they've had enough.
"Terrapins can live for up to thirty years so the decision to take one on shouldn't be made lightly.
"We'll soon be looking to find Tango a knowledgeable new owner who can provide him with the care he needs for the rest of his life."
Abandoning an animal is an offence and anyone found guilty of doing so can expect to be banned from keeping animals for a fixed period or life.
Anyone with information is being urged to contact the Scottish SPCA Animal Helpline on 03000 999 999.