Sex crimes medical unit opens in Livingston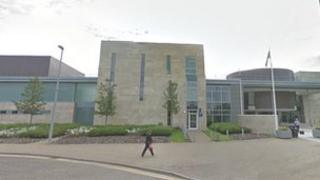 A medical suite designed to give victims of sexual crime anonymity, through specially designed access, has opened.
The Livingston facility at the West Lothian Civic Centre is the first of its type in West Lothian.
The suite has the capacity to examine and interview victims in the same location while collecting evidence.
Previously victims had to be taken to the Vega building in Edinburgh or St John's Hospital in Livingston.
The suite is through a specially created corridor away from the main entrance to protect identities.
Police said the old system often meant there were long waiting times or delays in examination.
'Victim-focused'
It is hoped the suite will increase victim confidence to come forward.
The facility, which includes state-of-the-art specialist equipment, was funded by West Lothian Council and NHS Lothian.
Det Insp Matt Paden from Lothian and Borders Police said: "We know how utterly traumatising sexual violence can be and we are committed to providing a victim-focused approach to ensure we make the whole investigation and examination experience as comfortable as possible.
"The specialist examination suite will not only hopefully improve confidence in reporting, but also help us in gathering as much vital evidence as possible to assist us in successfully prosecuting perpetrators."
Melanie Hornett, NHS Lothian's nurse director, said: "NHS Lothian welcomes this new facility and the benefits it will bring.
"Medical and forensic care will be offered at the most appropriate time, closer to the victim's home and in an appropriately sensitive environment."