Bid to revive Scots population study started in 1936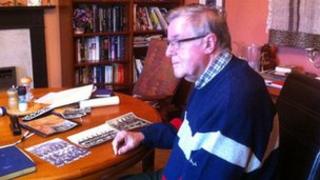 Psychologists are contacting people who took part in a study 50 years ago in an attempt to paint a new picture of Scotland in miniature.
A team from Edinburgh University want to speak to 600 people born in 1936.
They were asked questions about family, health and education every year until they reached the age of 27. But the ground-breaking survey ended when funding ran out.
The hope is the research can now be revived and continued.
Scotland was the first country in the world to conduct a highly detailed population study in 1947.
Hundreds of children born on six specific days in 1936 were asked a range of questions about things like their family and lifestyle.
'Build picture'
Now a team at Edinburgh University has managed to reach many of the original participants to ask them to complete a new survey.
They want to find out more about their lives and how their early years have affected them in later life.
Prof Ian Deary, who is leading the latest study, believes those who took part in the original survey are an "invaluable sample group" who can build a picture of how older people are affected by what happens to them when they are young.
He said: "On Wednesday 4 June 1947 Scotland did something that no country has ever done before, it tested the cognitive ability or thinking skills of the entire nation. We know this information will be really important.
"When we look at people's life courses they are not complete unless we know things that happen from their early days as well.
"So how you are feeling in older age, how your health is, we know now that these things happened in early years."
John Freebairn, 76, a retired banker who lives in Linlithgow, took part in the study through his teens and into adulthood.
He said: "It was very much a fun thing because I was always very competitive and so the chance to participate and perhaps be better than someone else actually was the kind of thing that switched me on.
"I was also interested in the fact they were able to keep up with me through until I was 27, all through the time I was in Hong Kong and back in St Andrews."
Prof Deary added: "This is one of the very few samples worldwide that has this very rich information from early life that can tell us about how people are doing when they are older."